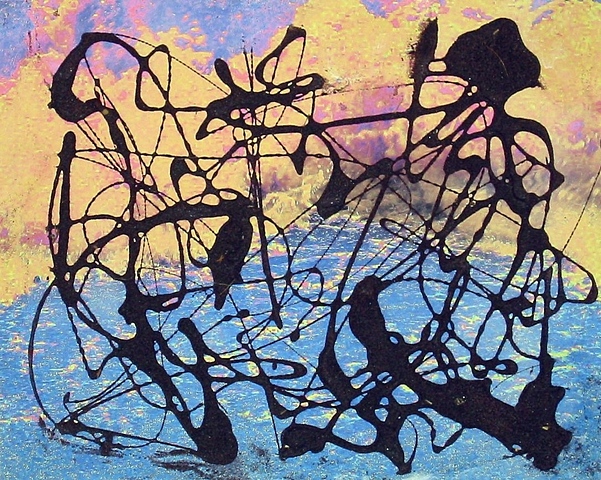 John Perreault had his first exhibition of paintings and sculpture in 1965. Later he became a pioneer of Street Works and Performance Art. In 1995 when he was Distinguished Visiting Professor at the University of Australia, Canberra, he produced drawings in homage to Sir Sidney Nolan's Ned Kelly paintings, using Vegemite. Since then, in order to attack what he calls the art supplies racket, he has explored alternative media in works on paper, canvas, and walls, working with Colgate toothpaste for several years. This was followed by his extensive use of black sand (i.e. found, oil-coated beach sand) and now instant coffee. The black sand paintings using found seascapes and blowups of snapshots of the surf are in part to call attention to the horrendous pollution of our oceans. The coffee pieces are in honor of G. Washington, the "inventor" of instant coffee, whose summer mansion just outside of Bellport, Long Island, is now scheduled to be demolished. In Performance Art most recently he has limited himself to circumambulations, some clockwise and others counterclockwise. Along with other videos, a number of circumambulations are documented on the John Perreault Channel on YouTube. An art critic for many years, his current essays, which increasingly incorporate multi-media, may be found on Artopia, which now has an accessible archive of nearly 200 entries. The main website is www.johnperreault.com --- "The Portal to Artopia." A separate website will be devoted to his poetry and fiction.
John Perreault: "The oceans do not separate us; they connect us."
John Perreault: "He who can find beauty even in madness has found his life's work."
John Perreault: "Art can be made out of anything. We must break the art supplies racket."